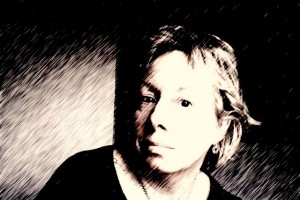 My work is about self but not necessarily myself. Angels often appear in my work. I use them as symbols of the human condition.
ANNEE ROBSON
Annee is a Guildford-based artist, printmaker and educator. She received her BS (Hons) Fine Art degree from Surrey Institute of Art and Design (now the University for the Creative Arts) in 1999 and left with a keen interest in printmaking.
An illness in 2005 prompted a review of her career and led to a decision to develop her professional practice as an artist printmaker. She started attending courses at Ochre Print Studio and soon became a full time member.
Early in 2009, Annee was made redundant from her job as PA to the Directors of a Private Investment Company. At this time she became increasingly involved in the day to day management of the Studio and in June of that year Ochre's founder, Julie Hoyle invited her to become her business partner. As joint Directors, they now run Ochre Print Studio, based at the Lockwood Centre in Guildford, one of the finest open access print studios in the south of England.
In her role as printmaker educator Annee runs weekly sessions for Adults with Learning Disabilities, teaches printmaking to A Level Art students at private schools, leads workshops and provides individual tuition in a variety of basic and advanced printmaking techniques. She has organised and curated many exhibitions for Ochre Print Studio members over the past few years.
Annee's work was Shortlisted for the RA Summer Exhibition again this year and she has been invited to exhibit in numerous group shows. Most recently in two exhibitions with LOOP (Artists in Print) at London's Bankside Gallery and The Redchurch Street Gallery, Shoreditch.
Annee's past secretarial experience and her career as the Personal Assistant to the Chief Executive of a small but influential investment company enables her to bring a wealth of management and organisation skills to her role at Ochre Print Studio.
Annee and Julie Hoyle, founder of Ochre Print Studio, have developed their business into the finest open access print studio in the south of England. They are dedicated to the success of their business and are constantly looking for innovative ways to ensure that Ochre Print Studio continues to thrive.
Recent Exhibitions
2009: Ochre Print Studio (SAOS)
2009: Baker Tilly Guildford (Group Show/Art@Work/Guildford Arts)
2009: SW1 Gallery (Group Show)
2010: Otters Pool Studio (SAN 1st Anniversary Exhibition)
2010: Lewis Elton Gallery (SAOS Taster Exhibition)
2010: Ochre Print Studio (SAOS)
2010: ECAN Summer Arts Festival at Bourne Hall
2010: Otters Pool (Group Exhibition)
2010: Harvey Gallery ('Cargoes' / Group Exhibition)
2010: Lewis Elton Gallery ('Original Prints'/Ochre Print Studio)
2011: Otters Pool (SAN Anniversary Exhibition)
2011: The Lightbox (Palette Cafe and Restaurant)
2011: Clyde & Co (Art@Work/Guildford Arts)
2011: Ochre Print Studio (SAOS)
2011: New Ashgate Gallery Farnham
2011: ECAN Summer Festival at Bourne Hall
2012: LOOP 2012 at Bankside in November
2013: LOOP 2013 The Redchurch Street Gallery, Shoreditch June 2013
www.loopartists.org.uk